Recently, I got into a mud throwing and catching competition online. One of the participants there wrote that I have "…written publicly about [my] depression, job loss, and difficulty forming lasting relationships, factors that often make people hostile towards other people. … It's a pity [I don't] realize that hostility and resentment drive away prospective employers, partners, and friends. Employers are savvy enough to look at what candidates post online." While I was discussing this with a fellow handbell musician, she suggested that I remove some of the blog entries. My response was an immediate no. Since the beginning of this blog, I've had a personal rule that I don't remove any entries and I don't edit entries after they've been up a few days.
Once I've put something out into the world, I leave it out there. I'm not worried about the Streisand effect or something similar. I just don't want to go back and worry about what should and shouldn't be public.
I also don't worry about employers looking at this blog or my website. Any employer with a borderline competent employee relations department would realize that my the content of blog does not likely relate to any bona fide occupational qualifications, therefore by considering it in their hiring process it opens the company up to lawsuits. Of course, winning a lawsuit where this is the case is difficult. However, I don't want to work for an employer who made the (illegal) decision to read my blog and due to what I wrote made the decision not to interview or hire me.
---
Yesterday, I watched John Green's video Perspective. He shares his story from twelve years ago when his life wasn't going well. His girlfriend had just broken up with him, he wasn't eating well, and I'm sure thats just the tip of the iceberg in his situation. He calls his parents, decides to go home, tries to quit his job, spends two weeks in daily therapy, has his psychiatric medication changed, watches Harvey, and then goes back to Chicago. Things slowly get better and he finishes a seed of what became his published first novel.
When I watched John, describe his struggles of twelve years ago, it struck a nerve because I've been in the same neighborhood as John.
Now John Green is an author with books on the New York Times best seller list, a vlogger, a husband, a father, a performer, and most importantly a really nice guy. He currently is living what many would consider a successful life.
---
I leave the blog entries about the shitty, sucky parts of my life online precisely because I've been there, and I know others currently are in the same neighborhood. I wouldn't describe my entire life at this moment as successful, but there are parts of it which are amazingly wonderful, and I'm working on the rest.
It is important to share the less glamorous parts of life because we are taught that life is like the top panel in this comic from thedoghousediaries: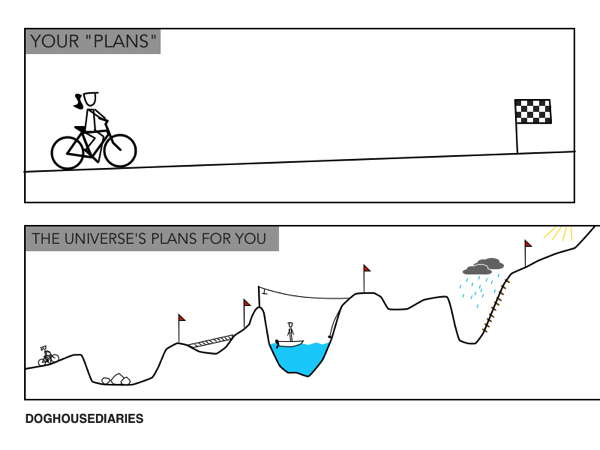 However life is most like the bottom panel.
---
If we only share the wonderful sides of our lives, we risk making our successes seem too easy. In turn, when others compare themselves to us, they it makes their falls and failures seem insurmountable.
I find comfort and some solace in knowing that John Green has had struggles with depression and clearly has gotten better, that Wil Wheaton has had struggles with depression and got better.
I also find it valuable knowing that even folks find themselves on paths that don't work, like my friend Christine who left graduate school or our minister, Matthew, who jumped from being a case worker to a minister.
I leave my blog intact in the hope that others will find comfort and solace in knowing that I have been where they are now, and that life does get better.