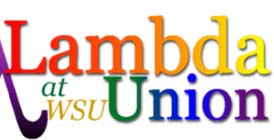 Wright State University's

Gay, Lesbian, Bisexual, Transgendered, Queer, Questioning, and Allied Student Organization

About Us
Lambda Union is a diverse student organization that welcomes all people interested in Gay, Lesbian, Bisexual, Transgendered issues and history.

We welcome undergraduates of any major, graduate students, professional students, and interested high school students. Parents, Faculty and Staff and other members of the Dayton community are also invited.

We welcome and encourage allies, straight people who look to further GLBT issues, to become a member of Lambda, or just to visit.

Even if you don't feel comfortable attending a meeting, or stopping by our office we encourage you to explore this site. You can find out how to drop a suggestion in our virtual suggestion box; contact us via other methods; see pictures of Lambda members and events; find when our office is open; read about the people who are Lambda Union; or read our constitution, history, policies, and Executive Board Minutes.